In 2002, 34.9 million people lived in households that were food insecure (12.5%), 1.26 million more people than in 2001. This number includes 13.1 million children. About 300,000 more people lived in households where someone was hungry (3.4%) 9.3 million total, and about 567,000 kids lived in homes where children were hungry, 100,000 more than the year before.
The report also takes a closer look at who is likely to be food insecure. Food insecurity rates were double the national average among African-Americans and Hispanics -- 22 percent for African-American and 21.7 percent for Hispanic households. Central cities and rural areas had more households with food insecurity than other areas, at 14.4 percent and 11.6 percent respectively. Six states had food insecurity rates of more than 14 percent of their households -- Utah, Texas, Mississippi, Arkansas, New Mexico and Oklahoma.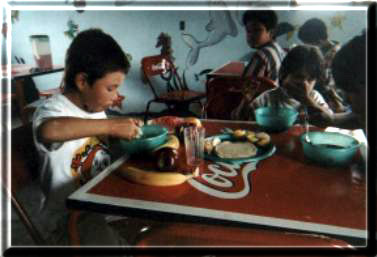 "I was hungry and they gave me something to eat"
World Hunger Statistics
Every minute 23 children die of starvation, malnutrition, or preventable diseases.
Kids Can Make A Difference
Hold a pot-luck to donate food to the hungry

Have a Halloween Ball to donate money for food

Sponser a canned food drive

Have a fund-raiser

Volunteer at the Stew Pot

shrink everyone to a smaller size